Aug 2, 2016
RIDGECREST HERBALS REPLACES ASTHMACLEAR WITH AIRWAYCLEAR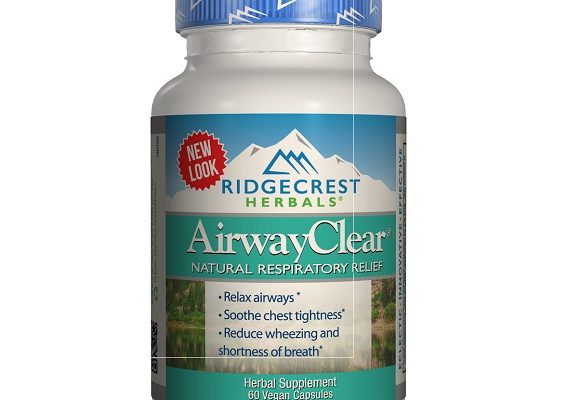 Regulatory changes prompt an updated formula named AirwayClear, formerly known as AsthmaClear.
SALT LAKE CITY, June 24, 2016 - RidgeCrest Herbals has released a new product to replace their popular product AsthmaClear. The new product, called AirwayClear, has almost the same herbal formula as the former AsthmaClear product, but does not contain homeopathics. This change was precipitated by recent FDA statements and enforcement activity taking the position that asthma was not appropriate for over-the-counter (OTC) treatment, and specifically warning against homeopathic OTC treatments, a class that apparently included AsthmaClear. The new AirwayClear formula contains no homeopathics, but contains the exact same herbal blend formerly found in AsthmaClear. It also contains AvailaBlend, a patented natural formula for enhancing potency by increasing bioavailability. Because the new AirwayClear product is regulated as a Dietary Supplement, rather than as a homeopathic drug, the name and UPC code were also changed. You can find the new formula at www.rcherbals.com.
"AsthmaClear has been a consistent top seller for us since 1994, so we don't take these changes lightly. But because homeopathic medicines are not dose-dependent, the actual change in the new formula was about 2% by weight, " said Matt Warnock, CEO. "I doubt most existing users will notice a difference in the effectiveness of the formula, and some may actually find it more effective, because of the addition of AvailaBlend. But the change was needed to stay within the changing FDA regulatory framework."
Customer feedback since the update has been generally positive, although the name and formula change has certainly created some uncertainty as consumers braced for adjustments to a product that they have used and enjoyed for so long. Consumers or dealers with questions about the new formula can call the company help line at 1-800-242-4649.
About RidgeCrest Herbals
RidgeCrest Herbals makes natural remedies for individual health needs, including the top selling ClearLungs, SinusClear, Anxiety Free, Hair ReVive, and more than 20 other formulas. The company's eclectic approach combines natural methods and ingredients from around the world to deliver the most effective results. To learn more about RidgeCrest Herbals visit www.rcherbals.com or call 1-800-242-4649.